Monthly Archives:
January 2011
While I ruminate on the colour scheme for the army I'm cracking on with preparation and planning
The infantry miniatures will be based on the original 12 minis released in 1988. I've divided them into four groups of three based on their roles/equipment.
The Basic troopers for Serpent and Dragon squads will be taken from these three. L to R they are armed with Laspistol, 2x Shuriken Catapults
The troopers for the Razorwing squads will primarily be made up of this group of three. FL to R  it's Laspistol & Flamer, 2x Laspistol & Shuriken Catapults.
The Viper squad and heavy weapon miniatures will be made up of these three as they fit the look of powered armour. L to R it's Shuriken Catapult, Lascannon and Missile Launcher
The final infantry group is for leaders, characters and spare parts. L to R  it's Meltagun & Power Glove, Hand Flamer & Power Sword and Laspistol & Power Glove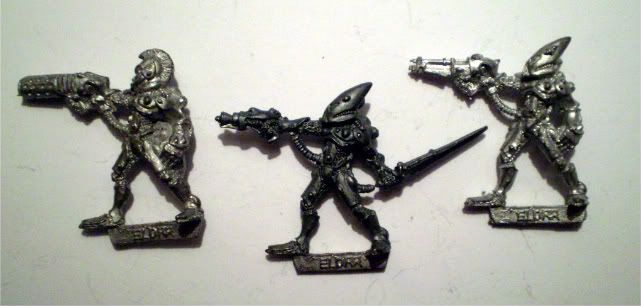 The Zoats are pretty much ready to go once they have been stripped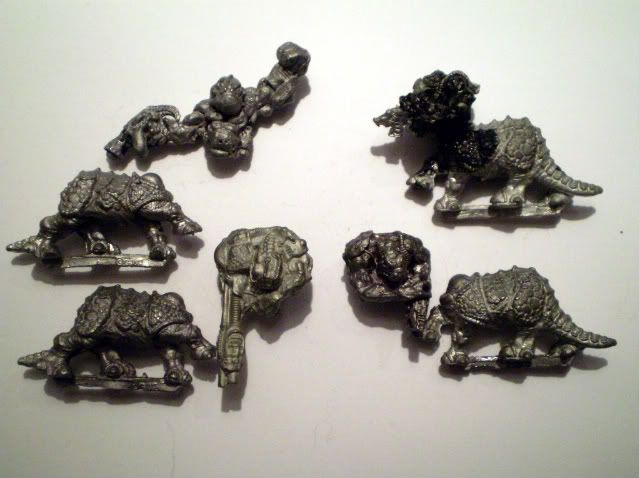 In terms of preparing the miniatures they simply need to be stripped back to bare metal and I pull no punches here. I place the miniatures in a small ceramic bowl and cover them in Nitromors, a very effective branded paint stripper. I cover the bowl in tin-foil and leave it outside, usually overnight. The beauty of Nitromors is that it doesn't react with the metal so you can leave minis in it for a week if you want. The next day I remove the models one by one with pliers and scrub the mini with an electric toothbrush. This is done under running water (hose) and that is usually enough to remove 99.9% of paint, repeat if needed.
SAFETY NOTES:
1. If you are using any type of chemical stripper read and follow all the manufacturers instructions. If you are not careful or think you know better than the manufacturer then you deserve everything that comes of it, stupid.
2. This only works with metal miniatures, plastic and resin will simply dissolve.
3. I purchased an apron, safety goggles, packs of disposable gloves, pliers and the electric toothbrush specifically for stripping miniatures. I perform all of this outside, well away from anything I do not want the stripper to come into contact with.
4. It's very difficult to paint with hands and/or eyes that have suffered chemical burns …
Conversion Planning
The thing I wish to avoid the most is duplication within each squad i.e. have two exact same miniatures in the same squad. I'd also like all of my squad leaders to
be unique. In terms of weapons I need to be able to represent:
- Close Combat: Sword, Power sword, Power Glove
- Pistols: Hand Flamer, Las Pistol, Shuriken Pistol, Bolt Pistol
- Basic: Shuriken Catapult, Bolt Gun
- Special: Plasma Gun, Flamer, Melta Gun
- Heavy: Heavy Plasma Gun, Multi-Melta
In addition I need to resolve the flight pack issue for the Razorwing squads and characters. There is also the matter of head swaps on models where the helmet is sculpted onto the torso.