Rogue Trader Eldar Army Project #2: The Army List
Running from page 101 to 104 of the Book of the Astronomican (BotA) is the original Eldar Pirate army List for Rogue Trader (RT). Written as a list for the Eldritch Raiders it comprises of five differing ranks of characters, six types of Squad and three types of vehicle. It is structured to allow a "balanced" force of between 1500 and 3000 points. The list primarily focuses on Infantry with light support and vehicle options. This was true of all lists at the time given that mini production was not yet geared towards large vehicles.
Characters
Hideously overpowered with complicated weapon and equipment options, oh how I love the characters of old! There are a couple of minimum selections options in the list but these are champions/leaders so it's not too onerous to include them.  I've added a couple of stronger characters who also happen to be Psykers. All are equipped with Shuriken catapults together with at least 2 pistols and a melee weapon. All but the Probati have flight packs. My selections are;
1 Shadowlord                    Major Hero L3 psyker
1 Malefactor                      Minor Hero L2 psyker
2 Prefectors                      Minor Heroes
3 Probati                           Champions
In terms of modelling I'm looking at a couple of head and/or weapon swaps but the concern I have just now is how do I model the flight packs for the first 3 types of characters?
Squads
Again I have to factor in a couple of minimum requirements for the Squads. However as these are the base squads I planned to take anyway it's not at all limiting my options. All Eldar squads comprise of five models with a leader, 1-2 special/heavy weapons and 2-3 troopers. The Zoats squads are 4 strong with a leader, 1 heavy weapon and 2 troopers. I have taken;
3 Serpent Squads (infantry): The building block of the Pirate force armed with a mixture of shuriken catapults and special weapons.
2 Razorwing (Jump Infantry): Taken as an upgrade from a Serpent squad that gives them flight packs.
1 Viper Squad (Heavy Infantry): Taken as an upgrade from a Serpent squad that gives them increased stats and equips them with powered armour.
2 Dragon Squads (infantry): The support squads of the Pirate force. They are armed with a mixture of shuriken catapults and Flame/Plasma weapons including a Heavy Plasma Gun
1 Zoat Terror Squad (Cavalry?): The heavy hitting allies of the Eldar pirates they are armed with a mixture of Bolter and Melta/flamer Weaponry.
Again my only real concern is the flight packs for the Razorwing squads. There are a couple of head and weapon swaps in each Eldar squad but the most complicated of these will be for the squad leaders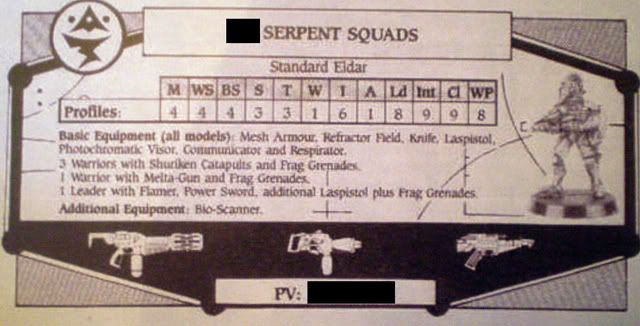 Vehicles and Support
The three vehicles associated with the list are pretty much generic to all of the armies found in BotA so I'll be eschewing them in favour of those from the White Dwarf articles. This means it'll pretty much be Walkers unless I want to spend more time converting up grav-attacks such as the infamous deodorant vehicle. In the end I've gone for;
2 D-cannons on Anti-grav Platform
1 Banshee Dreadnought
1 War-Demon Dreadnought
1 Vampire Spirit Warrior
2 War Walkers
There will be straight builds with no conversions outside of posing the models.
In total this gives me a model count of 66 minis. 7 characters, 40 Infantry, 4 Zoats, 2 Artillery (3 models each), 5 walkers.
Next: Model preparation and conversion planning.