HGA Team Pyre #3: Model Planning
At the start of a project I like to jot down a few notes about the work I want to do on each miniature. This helps keep it focused and restrains the oh!-that'd-be-cool factor of mid project changes. Below is a list of the work to be done, the weapons and components for the final model and a couple of pics (one of the parts and one of the mini stuck together with blu-tack).
Copperhead : Siobhán
The Teams close support gear, Siobhán is largely a straight build of the basic Copperhead kit with a couple of conversions thrown in. This largest effort to be spent on this model will be for the sculpting of the field armour.
Weapons: 2 LRPs, a grenade launcher and a chain sword.
Components: Sensor Modernisation, Field Armour 2 and Reloads (LGL)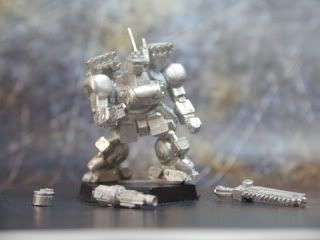 Copperhead : Chompy
This build will be based around 2 significant conversions the field armour/armour plating and the heavy chain saw. Apart from that it has a nice, dynamic pose and will be fairly easy to construct once the conversions are done.
Weapons: Heavy Chain Saw, Spike Gun, Chassis Reinforcement
Components: Field Armour 3, Advanced Armour Plating, Ram Plate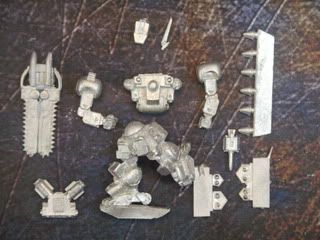 Warrior: Baku
As I'm using a Warrior from an older DP9 two pack the torso already has field armour sculpted onto it. This means that the work needed here is the drilling for the Vibro axe. Apart from this it needs a couple of additions but these are pre-sculpted components that need to be glued in place.
Weapons: Rapid Fire Bazooka, Vibro Axe, Hand Grenades (3), Heavy Hand Grenades (2)
Components: Field Armour 3, Reloads (RFB)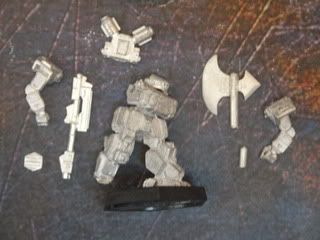 Pitbull: Desert Rabbit
A fairly easy build on this one as its all additions to the basic chassis. No clipping, sculpting or fiddly gluing. That said the pose for it is very static for a gear in HGA. This might need some thought given to the pros and cons of reposing it
Weapons: Light Autocannon, Vibro Claw, Chain Sword
Components: Field Improved Engine, Oil (6), Smoke (3)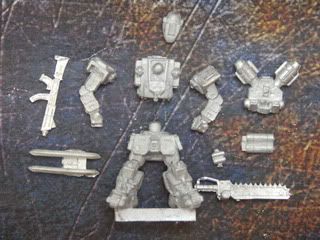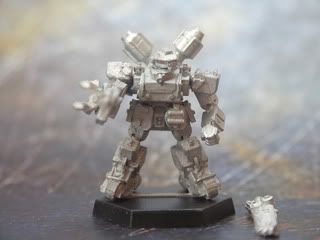 Sidewinder: Djinn
There's a lot piled onto this model and it has the largest number of conversions, some of which are just to keep it in line with its back story. The biggest bits of work will be the field armour and replacing the left pauldron. The rest of the work is swap outs and additions. This mini also suffers from a fairly static pose for HGA.
Weapons: Medium Autocannon, Vibro Rapier, Heavy Panzerfausts (3), Buckler, Incendiary Hand Grenades
Components: Improved Engine, Field Armour 2, Reloads (MAC), Smoke (3)