Blog Archives
What are they?: A set of 8 resin miniatures and 25 paint puddle counters for a board game of fantasy paintball. There are 6 boxes, one per colour, containing a full playable faction.
Price: €50/£40.50. This works out at €6.25/£5.07 per miniature
Price within the context of the game: Single purchase and you're effectively done. Each player will only need to buy one of these if they wish to play the game with miniatures.
Packaging: The miniatures come well padded in a large clamshell blister stuffed with bubble wrap. Each miniature and its components are in its own Ziploc. The only area for concern is the width of the Maxi Golem miniature. Even though it fits within the blister it's a snug fit and leaves little room for error in shipping.
Contents & Parts Count: Each box contains 8 miniatures. In addition to the Chief, 2 mini Golems, a Maxi Golem and 25 paint puddle counters each box contains;
Color Box: Red: 2 Warriors*, 1 Hunter and 1 Shaman
Color Box: Blue: 1 Warrior, 1 Hunter and 2 Shamans*
Color Box: Yellow: 1 Warrior, 2 Hunters* and 1 Shaman
Color Box: Green: 2 Hunters* and 2 Shamans*
Color Box: Orange: 2 Warriors*and 2 Hunters*
Color Box: Purple: 2 Warriors*and 2 Shamans*
*Two variants of this combatant are included
In terms of parts count each type of miniature is as follows; Chief (12 parts), Warrior (2), Hunter (4), Shaman (5), Maxi Golem (3), Mini Golem (1).
Quality: As with all of the products form Fluo Games the production values are high and the miniatures are cast to exacting standards of quality. Flash and mould lines are rarely present and the joints are clean, though a bit narrow on some components. Apart from the contact points for resin channels there are no additional casting marks.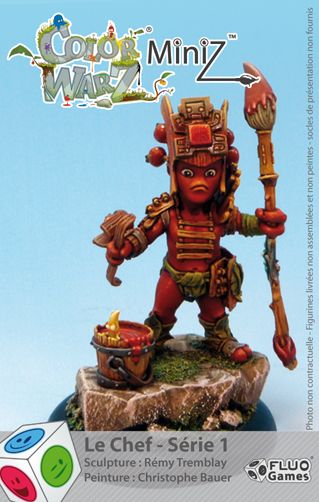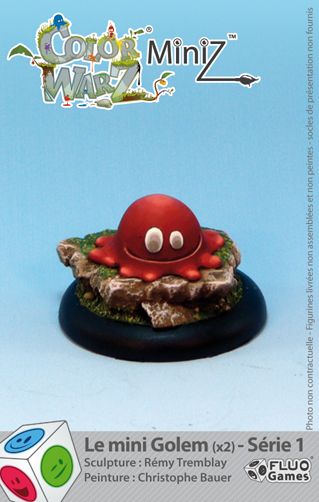 Detail:  These sets are based on the first series of miniatures, so I found that the attention to detail on these miniatures continues to be amazing. Fluo Games are releasing a second variant of the combatants (Warrior, Hunter, Shaman) which not only fleshes out the range but gives a further insight into this colourful world. These variants are included within the Color Boxes, marked with an asterisk under contents and parts count
The core concept of the game is that battles are fought with paint made from magical berries and this has been brought into the miniatures. If you look closely you will see that most of the miniatures are armed with types of paint brushes & berry catapults.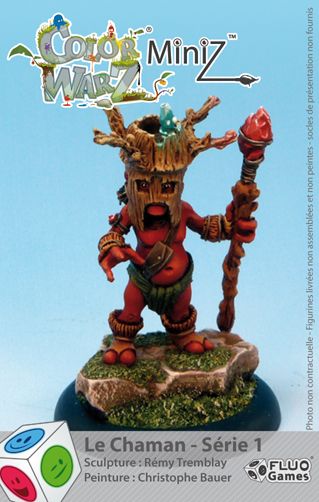 Ease of Assembly: Straight forward but fiddly at the same time. Unless you are a collector and do not intend to use them in the game you will need to pin some or most of the joints. Given that these are all cast in resin that's not such a time consuming task though it's a bit nerve wracking given the thinness of some of the joints.
Due to the level of detail on them I found both the Chief and the Hunter took the most preparation and TBH patience … I had to get up and walk out of the room a couple of times
Summing up: I love the idea behind these boxes, A one stop purchase for you faction can only be a good thing. You get to paint up all of your MiniZ in the appropriate colour with no sepia in sight.  Given the detail and uniqueness of the miniatures I find these boxes to be very good value. You get 6 miniatures with "hero level" detailing, two paint splats and 25 counters.
If I'm allowed one niggle it was that the Paint Clone miniature is not included. Not all faction get access to it and it is the result of a spell rather than a starting model so I suppose I can see the logic for not including it. That said I recommend you buy them now, right now! oh wait … they are not released until the 10th of December.
If you want to know more about the Color Warz setting and the Paint Brawl board game please visit the Fluo Games website.