Blog Archives
At the start of a project I like to jot down a few notes about the work I want to do on each miniature. This helps keep it focused and restrains the oh!-that'd-be-cool factor of mid project changes. Below is a list of the work to be done, the weapons and components for the final model and a couple of pics (one of the parts and one of the mini stuck together with blu-tack).
Copperhead : Siobhán
The Teams close support gear, Siobhán is largely a straight build of the basic Copperhead kit with a couple of conversions thrown in. This largest effort to be spent on this model will be for the sculpting of the field armour.
Weapons: 2 LRPs, a grenade launcher and a chain sword.
Components: Sensor Modernisation, Field Armour 2 and Reloads (LGL)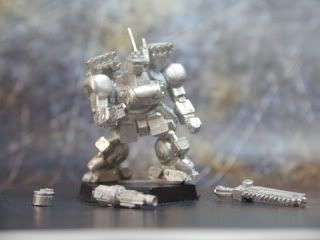 Copperhead : Chompy
This build will be based around 2 significant conversions the field armour/armour plating and the heavy chain saw. Apart from that it has a nice, dynamic pose and will be fairly easy to construct once the conversions are done.
Weapons: Heavy Chain Saw, Spike Gun, Chassis Reinforcement
Components: Field Armour 3, Advanced Armour Plating, Ram Plate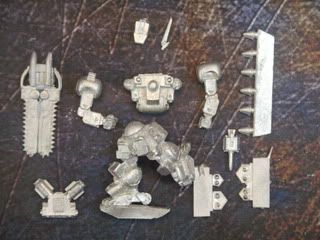 Warrior: Baku
As I'm using a Warrior from an older DP9 two pack the torso already has field armour sculpted onto it. This means that the work needed here is the drilling for the Vibro axe. Apart from this it needs a couple of additions but these are pre-sculpted components that need to be glued in place.
Weapons: Rapid Fire Bazooka, Vibro Axe, Hand Grenades (3), Heavy Hand Grenades (2)
Components: Field Armour 3, Reloads (RFB)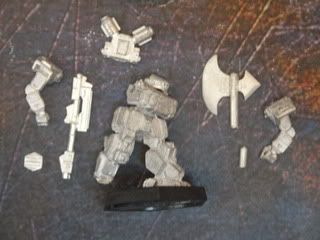 Pitbull: Desert Rabbit
A fairly easy build on this one as its all additions to the basic chassis. No clipping, sculpting or fiddly gluing. That said the pose for it is very static for a gear in HGA. This might need some thought given to the pros and cons of reposing it
Weapons: Light Autocannon, Vibro Claw, Chain Sword
Components: Field Improved Engine, Oil (6), Smoke (3)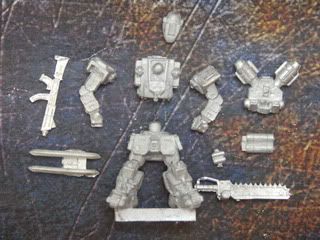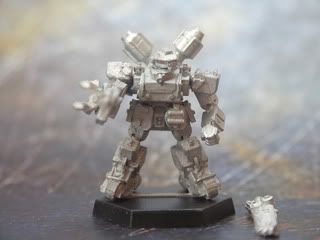 Sidewinder: Djinn
There's a lot piled onto this model and it has the largest number of conversions, some of which are just to keep it in line with its back story. The biggest bits of work will be the field armour and replacing the left pauldron. The rest of the work is swap outs and additions. This mini also suffers from a fairly static pose for HGA.
Weapons: Medium Autocannon, Vibro Rapier, Heavy Panzerfausts (3), Buckler, Incendiary Hand Grenades
Components: Improved Engine, Field Armour 2, Reloads (MAC), Smoke (3)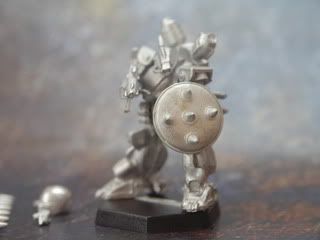 Duellists (pages 27-29)
I rolled up 5 further Duellists to fill out the Team but only made the hiring threshold on 4 of them. Instead of a simple, but effective, list I've fleshed out the character of each a bit.
1. Elyot Vider, Military Duellist;
Already in the employ of Guiliard before the team was formed this pilot is referred to as "The Bastard" by his team mates. He is undoubtedly the best all round fighter in the team but this is hampered by his disdain for those who fight with him. While he appears to truly respect Guiliard he almost never backs down in an argument with him. He seems to have more in common with underground duellists than those in the military though Hallstadt swears that the Vibro Rapier Vider uses is SRA issue
Vider pilots a Sidewinder named Djinn which, rumour has it; he was piloting long before he met Guiliard . Whether this is true or not is unknown but Sark, the technician assigned to it, feels that it is as aggressive as its pilot. Djinn is armed with a mix of ranged and melee weapons that seem to have covered all the bases so far. It has had its left pauldron replaced with one from a Black Mamba and one of the armour plates seems to have been replaced by an old model Cheetah sensor pod. Vider gives no answers for these oddities.
2. Hector DeGarmo, Professional Duellist;
If Hector was honest with himself he'd have to admit that he became a duellist to impress Lunete Beauchamps. His desire to spend time with her in and out of the ring has, to his horror, forged a professional partnership rather than a romantic one. Over the cycles his specialism in ranged weapons has come to augment Beauchamps preference for melee. Her continued indifference to his feelings has driven him into a bottle and he is developing a reputation for post game drinking sessions, win or loose. His infatuation with her is starting to dim but he still provides cover for her in the ring.
He uses a Copperhead Gear provided by Guiliard and has had it fitted with rocket pods and a grenade launcher after having the sensor issues addressed. After an opponent got too close in one match he has had a moderate amount of armour added and now carries a chain sword. He has named his Gear Siobhán, a name he found tattooed on his foot after an epic victory party.
3. Lunete Beauchamps, Professional Duellist;
The daughter of a well connected Southern artist Lunete got into duelling as a way to get back at her mother for not letting her join the Legions. Her neurosis over this has grown with the arrogance of each military duellist she has met. Finding ranged duelling unsatisfying she focused on melee almost from the start of her career. In training she felt that she had found a true comrade-in-arms with DeGarmo but was disappointed when he revealed his intent with his clumsy advances. She still finds DeGarmo's interest in her comical, though senses that it's fading, but says nothing because for fear of risking the support they give each other in the ring.
Lunete has been supplied with a brand new Copperhead which she feels is too light for her. She's had her tech fit more armour to it to give her more survivability. Her weapon of choice is a heavy chain saw, a brutal weapon that always makes her smile. She calls the Gear Chompy, after a childhood pet and has grown to love the crowd chanting NOM-NOM-NOM when the chain saw hits home.
4. Miko Hallstadt, Underground Duellist;
A publicly gregarious duellist Miko Hallstadt is a brutal opponent in the ring. No doubt a hangover from his days in the underground circuits of the Badlands and AST he views every match as a duel to the death. When he was younger he briefly served in the POC, just long enough to be issued with and steal his Gear.  Not that he is overly worried about Paxton as all records of him went up with Peace River … He hopes.
The Paxton Warrior Miko pilots has seen use in almost all of the underground arenas in the badlands, with mixed results it must be said. Miko is using the deep pockets of Guiliard to rebuild the warrior from the ground up. Cycles of combat both in an out of the arenas had taken their toll. He has renamed the Gear Baku.
5. Sidhra Nasim, Rally Racer;
An undeniable talent she was signed on after a recommendation from Hallstadt. As the only Northerner in a Southern team she doesn't really fit in but there are signs that the ice is beginning to thaw. The most bizarre is Vider. After she climbed out the crash that wrote off her last gear she knocked out the medic was trying to get her on a stretcher and walked out of the arena. As she left she looked up to the stands and saw Vider nodding approvingly.  He treats her no differently than the rest of the team but he has never missed a race since.
Nasim pilots a Pitbull which was purchased by the team to replace her SD Hunter. Emphasising speed over strength the engine has been upgraded and she now carries a much lighter compliment of weapons than she has previously used. The Gears name is listed as Desert Rabbit but Nasim refers to it as "the Gear" or "the Pitbull" as she finds naming machines stupid.
Before you start: Page 17 of the Arena Rulebook gives a good example for creating your team from scratch. My advice is to read pages 3 and 4 a couple of times first until you're familiar with the core concepts and aspects of the game. It'll make picking managers, duellists and gears a bit more of an informed decision.
The Manager (pages 19-21)
The first step in creating a HGA team is deciding the type of Manager you want. Reading through the Manager types I've decided to go for a Noble, a snake blooded Southerner by the name of Hercule Guiliard. His 3 skills are as basic as they get but he has a enough cash to kill a Bull Springer (I applaud you if you get the reference). His basic skills would be a problem if we couldn't buy modifiers for the Headhunt and Hiring rolls. since he has enough cash to cover these he's a solid choice.
The initial benefits that come with the Noble manager is one Duellist and one civilian sponsor. I pick a Military Duellist and a Sponsor with the Engineering Marvel perk. This gives me a solid Duellist over whom the Noble has a bit more influence than any subsequent hires and accesses to uncommon components straight off the bat.
Support personnel (page 33)
With a mixture of bribes, threats and signing bonuses Team Pyre's initial staff roster includes;
- 3 Technicians: Each is dedicated to a specific gear and help in repairs and upgrades.
- 1 Engineer: As with the techs but can repair more and install advanced components and weaponry.
- 2 Fixers: These guys/gals are your primary access point to the Black Market. Without corporate sponsorship they are your only chance of getting Uncommon, Rare and Black listed weapons, components and gears.
- 1 Cheerleading Team: All the benefits and hindrances you'd expect them to bring to the team…
I should note that I failed my rolls for the Promoter and the Handlers … This cost me 30K in modifiers proving that having the money isn't enough.