Blog Archives
While we announced the winners of the Burning Brush a couple of weeks back we must admit that there were some other pieces that didn't make it in time or were a "just for fun" entry. Our favourite of these is by Fabien Friess of Fluo Games, the chaps behind Paint Brawl. It's awesome. grimdarkly awesome.
DB noticed that it was his name on the scroll and is planning to return the favour to Fabien with something suitably amusing.  He promises images once they are done.
We had truly great entries for our first competition and I'm really looking forward to what's going to happen in the future. I want to thank all of you who took the time to enter and took a chance on putting yourselves out there, It's really inspiring. So without further ado…
The Burning Brush 2012
Gok, the Corpse collector by Duck21
Category Winners
Single Miniature: Gengo by AKA_Hazard
Squad/Teams and Forces: Cult of Yurei group by Reaper
Dioramas: "It'll be an easy delivery, I promise!" by Ironblood
The MERCS Spot prize of the Limited Edition Kat goes to Antabires for your obvious love of MERCS.
Congratulations to the winners and well done to all of the entrants for making this a tough first year. To see all of the entries for check out this topic on our forum.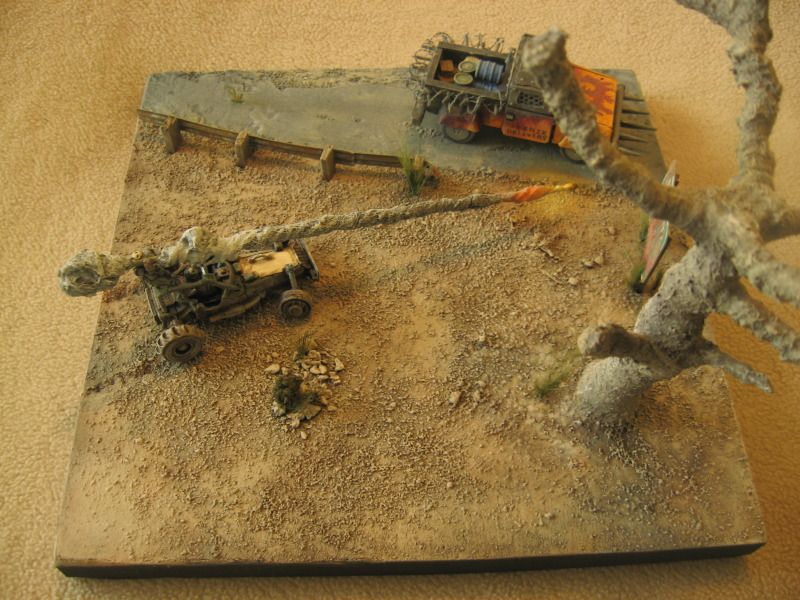 Pyre Studios is pleased to announce the first annual Burning Brush painting contest. This is an open contest with a combined £250 in prizes. It really only has two main requirements. Firstly the miniatures used must come from the game lines currently carried by Pyre Studios. Secondly is that "fire" must play some part in/with/on/near the composition. This can be anything from a cigar to a flamethrower or a logo to a flamejob.
Categories
1. Single miniature
This category covers a single miniature, of any scale, that can be mounted on a 25mm to 75mm base. This includes Warlands vehicles and larger kits.
2. Squads, Teams & Forces
This covers a cohesive unit or force of between 5 and 12 miniatures. Examples: A MERCS Squad, a force of Warlands vehicles, Elfball teams etc…
3. Diorama
Two or more miniatures arranged on a base to tell some sort of story. This can be as small or as large as you like.
How to Enter
• Register on our forum
• Once the account has been activated post your entry with 1-4 decent quality images into the relevant category. For info on taking good quality pictures follow this link.
• The final submission date is 6pm GMT the 30th May 2012. The forums will be locked at this time and remain locked until the decisions are made.
• The winners will be announced on the 2nd of June 2012
Prizes?
Why yes, I suppose we could have some. There are 4 prizes up for grabs with the Burning Brush. Each category winner will receive a £50 voucher for the Pyre Studios Store and the overall winner will receive a £100 voucher. Worldwide shipping of the products will be covered by Pyre Studios.
Small Print
1. Entrants must be 16 years old or over.
2. Entrants may submit a maximum of two entries per category
3. Any decision made regarding the winning entries is final and no correspondence will be entered into.
4. These decisions will be thoroughly subjective based on miniature used, conversion work (if any), painting, composition and how well the entry captures the "sprit" of the setting/game the miniature is from.
5. Entrants must use miniatures from any of the manufacturers currently carried by Pyre Studios
6. Please do not used photo manipulation, composites or logos etc… the miniatures should be able to speak for themselves.
7. We may contact individuals to ask for better pictures. This is not a photography contest and we don't want to miss someones awesome work because the flash was on…
8. Pyre Studios reserves the right to use any image it receives for promotional purposes. If used the artists name will appear with the image.
9. This contest is governed by the laws of fairness and common sense. See rule 3
10. By submitting an entry you accept the above terms.